Want to write a book?
We help you get it done.
The most common feedback we get from our participants is: "I tried to write a book in the past but couldn't seem to make it happen. This course was exactly what I needed to finally get it done."
The Tiny Book Course guides you from Point A ("I want to write a book!") to Point B ("I did it! My book is done!") in 45 days or less.
We show you how to write and self-publish a Tiny Book—a short book (30-70 pages) on any topic that excites you. Tiny books are powerful. Big creativity in a small package.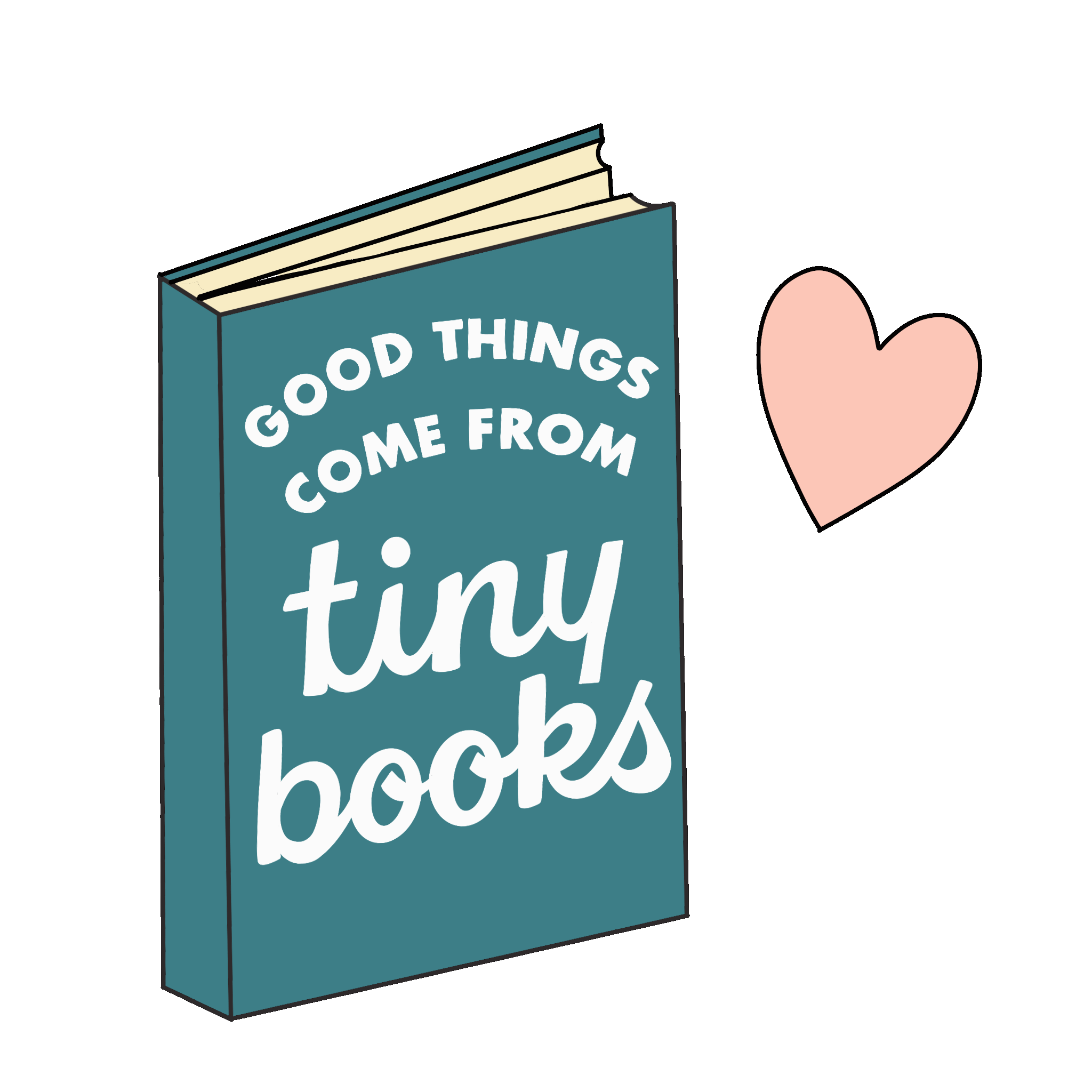 We guide you through every step:
Choosing a topic.


Writing your book.


Editing and fine-tuning.


Interior and cover design.


Self-publishing and printing.


Selling your book on Amazon and other retailers…or not! (Not every author wants to sell their book. You might be creating a book that's just for your family and friends, or just for you, and that's great!)


That moment of victory! Holding the finished book in your hands.
Do our Classic Level (watch tutorial videos, join the live group calls, follow along, do it yourself) if you're on a budget.
Or choose the Done-For-You VIP Level, and our professional book production team handles all the editing, design, and production for you (all you have to do is write!).
Writing a book might seem overwhelming, especially if you've never done it before.
We show you how to keep it simple, stop overthinking, and get it done!
Ready to write your Tiny Book?
Enrollment is open now! Next course starts October 1, 2020 and runs 45 days.
This means your tiny book will be done (hooray!) before Thanksgiving! You can give your book to your loved ones as a holiday gift.
Enroll now!
5 Reasons to Write a Tiny Book
1.
Because you've always wanted to write a book…and it's time to stop thinking and just do it.
2.
Because it feels so amazing to hold the completed book in your hands!
3.
Because you can sell your Tiny Book on your website, on sites like Amazon, or give away copies to friends, family, colleagues, and clients.
4.
Because maybe for you, writing a 300-page book sounds exhausting. But writing a shorter book that's 30 to 70 pages long? That feels doable!
5.
Because tiny acts of kindness, beauty, and love can change the world. Tiny Books can change the world, too. Tiny things are a big deal.
(n): a printed work of nonfiction or fiction that is around 30-80 pages on any topic that excites you. Can also be an eBook.
See also: A Tiny Book is absolutely a real book.
A Tiny Book could be...
A Tiny Book of family recipes.


A Tiny Book of love letters for your partner.


A Tiny Book filled with advice for your kids.


A Tiny Book with great tips for your clients.


A Tiny Book about self-esteem for teenagers.


A Tiny Book for sleep-deprived new parents.


A tiny journal of gratitude prompts.


Or, any kind of Tiny Book you can imagine!
Can I really write a book...in just 45 days?!
Oh yes, you can.
Why? Because you're not writing a gigantic 300-page book that requires blood, sweat, tears, and countless draining hours at your computer.
You're writing a Tiny Book. A short book that's joyful to create.
For instance, if you're creating a Tiny Book filled with heartfelt advice for your kids, maybe you'll decide to write 7 pieces of advice, pull together a few family photos, and boom, you're all done writing (and ready for design and printing) within a few hours or days.
Your book doesn't have to take "forever and ever" to finish.
Let us show you that creativity doesn't have to be complicated.
You can do this.
Here are some of our recent authors:
Why join the Tiny Book Course?
We're all about keeping it simple. If you have a tendency to overcomplicate things, get overwhelmed, or start projects but then you don't finish, this course is for you! We help you keep it simple and get it done.
Feel stuck? Need help? Got a question? Having a moment of doubt or self-criticism? Email your Tiny Book coach. Get a caring, helpful reply—from an actual human being—in 1-2 business days. We got you.
It's easy to feel like you "suck" as a writer, or your book isn't "as good" as someone else's. We help you battle these fears and feel more confident about your work. Your book matters just as much as anybody else's.
You want to write a personal book that's just for your spouse and kids? Beautiful. You want to write a book that touches thousands of lives? Great. We support you. Whatever "success" means to you, we help you achieve it.
While the majority of this course happens online, we also send snail-mail to you! You get a Welcome Kit shipped to your door filled with stickers, checklists, a workbook, and more. So fun.
IT'S NOT JUST ABOUT THE BOOK
This course is about writing a book. And…it's about so much more than that. It's about remembering that your voice matters. It's about silencing that self-critic in your head. It's about proving to yourself that you can set a goal and accomplish it. Tiny Books are a big deal.
CHECKLISTS AND TEMPLATES to simplify the process.
STEP-BY-STEP TUTORIAL VIDEOS showing you every single step you need to take.
INCREDIBLE CUSTOMER SERVICE. Your very own book coach to answer any questions you've got. Email as many times as you want. No question too big or small!
EXPERT GUIDANCE from professionals who know the ins and outs of the self-publishing world.
4 LIVE GROUP CALLS. We check in with you numerous times to make sure you're feeling good, getting things done, and moving towards the finish line.
45-DAY TIMELINE to keep you focused. Just the right amount of time. Not too little. Not too much.
MONDAY BOOK JUICE! An uplifting email from your coaches every Monday to keep you motivated! A fresh sip of juice every week.
SUCCESS pretty much guaranteed. We have a very strong track record of success. We help people become finishers.
​
ONLINE COMMUNITY FORUM to connect with your instructors and fellow authors.
COURSE SCHEDULE
​
In 45 days, we take you from "idea" to "done"!
October 1 - Kick-off Session! Here we go!
October 2-20 - Start writing!
October 21-31 - Editing and interior layout.
Nov 1-8 - Final tweaks and cover design.
Nov 9 - Upload for printing. You did it!
Nov 10-15 - It's happening! Your book is being printed and shipped to you!
Nov 16 - Closing celebration! Show off your finished book! Are you crying? Yeah, us too.
With the Classic level, you get 4 live group coaching calls, an online community forum, tutorial videos, templates, and checklists to help you write and self-publish your Tiny Book in 45 days or less.
We break everything down into tiny steps, and guide you through every step of the process from "idea" to "done."
You also get outstanding customer service. Got a question? Feel stuck? Need a pep talk? Email anytime during those 45 days and get a reply from an actual human being. You are never alone on this journey! We're with you, making sure you get this #done.
With the Done-For-You VIP level, all you need to do is write your book and give us a first draft in a Word document. Then, we take it from there!
​
We handle everything else for you.
Our professional book production team will edit your book manuscript, clean up typos, do the interior layout and make it look beautiful, create a cover design that you love, and get your book all set-up for printing.
You want to sell your book on Amazon, Barnes and Noble, and other retailers? We set that up for you, too.
​
Ahhh! Delightfully easy.
Alexandra Franzen is a writer, consultant,and entrepreneur based in Hawaii.
Her sixth book is The Checklist Book: Set Realistic Goals, Celebrate Tiny Wins, Reduce Stress and Overwhelm, and Feel Calmer Every Day.
​
She writes about a wide range of topics: life, love, death, grief, unplugging from technology, creativity, focus, productivity, simplicity, time–and how we spend it.
Lindsey is a writer, literary agent, and the Founder of One Idea Press. She is obsessed with publishing and to date, she has helped over 1000 people write and self-publish their books.
​
She's written eight books of her own including her award-winning book, Eat Your Feelings.
​
Lindsey also dabbles in stand-up comedy and resides in Pittsburgh, PA with her punk rock husband and their adorable pup, Winnie Cooper.