with Alexandra Franzen and Lindsey Smith
This beloved course is offered once a year…and always fills up!
​
Enroll early to guarantee a spot in the 2021 course.
​
Don't miss the Tiny Book Magic!
Do you dream about writing a book?
​
​​But maybe you feel intimidated about the notion of writing a gigantic 300-page book?
​
Writing a "Tiny Book" might be a great option for you.​
​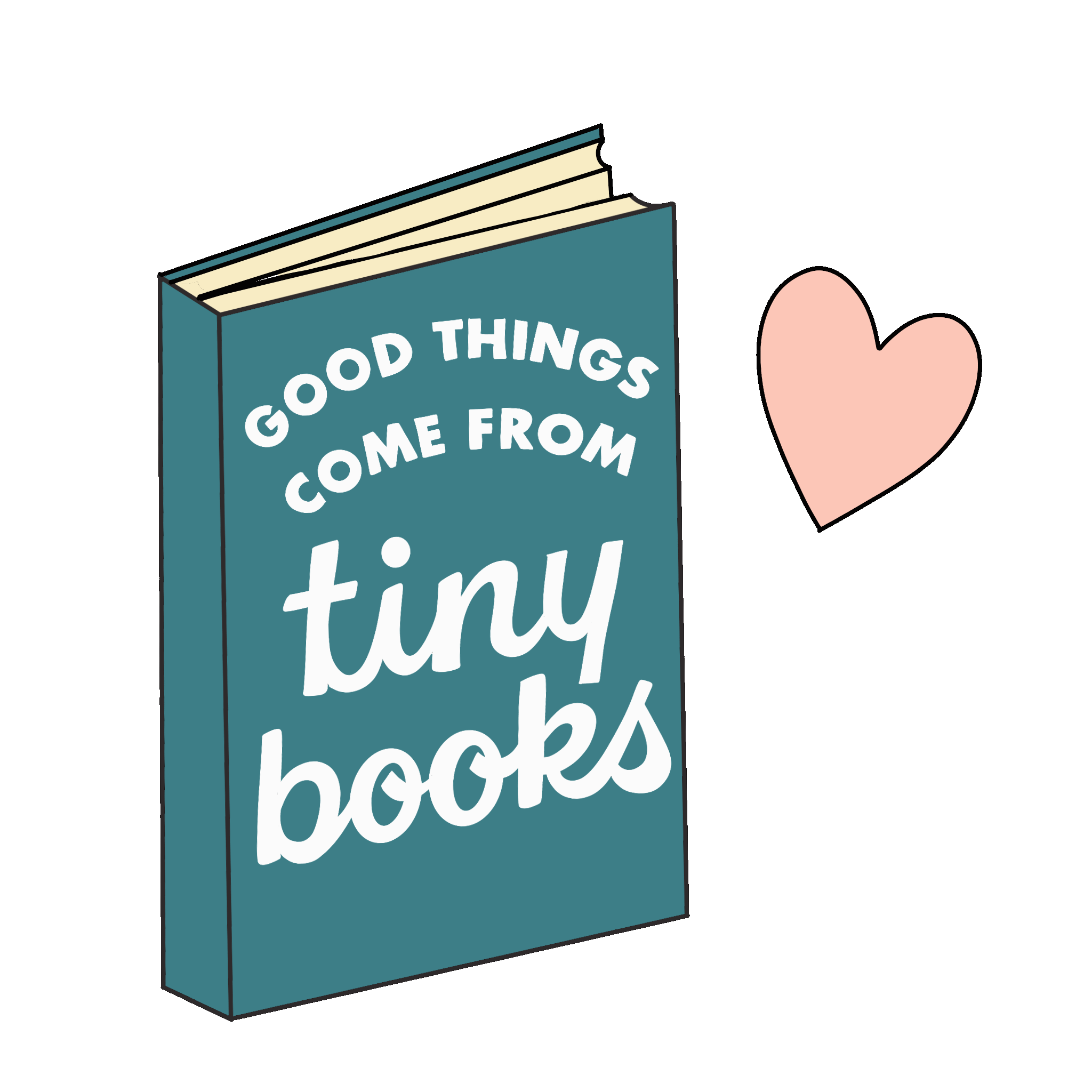 ​A Tiny Book is a short book (typically 30 to 70 pages) on any topic that excites you.
Your Tiny Book could be a family cookbook that you create along with your kids, a collection of love letters to your spouse, a workbook filled with helpful tips for your clients, a journal, coloring book, memoir, children's book, how-to guide, or any other kind of book you want to create.
The Tiny Book Course takes you from Point A
("I want to write a book!")
to Point B
("Oh my gosh, I did it! My book is done!")
while keeping the process simple and joyful.
We guide you through every step—from choosing a topic, to outlining, writing, editing, interior layout, cover design, and self-publishing.
You want to sell your book online on Amazon and other retailers? We show you how to do that, too!
Do The Tiny Book Course, and discover that this journey is not as complicated as you think.
Experience the joy of holding the finished book in your hands!​
The Tiny Book Course includes 45 days of outstanding customer support.
Email anytime if you have a question, feel stuck, want to brainstorm, or need a pep talk.
Get a personal reply from an actual human being who cares about you and your book.
This level of support, alone, is worth the entire cost of the course.
Check out beautiful books written by our graduates!
What you gain from this course
Become an author. (Finally!)
We demystify the process for you, and show you that creating a book can be a lot simpler than you thought. We specialize in helping first-time authors get their book done.
Gain confidence in your writing.
If you struggle with perfectionism, self-criticism, overanalyzing, nitpicking, or just feel like your writing is never "good enough," this course will help tremendously.
Experience the power of finishing.
You start lots of projects but rarely finish anything? This course helps you break out of that pattern. Learn how to set realistic goals, clear away distractions, and get things done. Carry these skills into other parts of your life, too.
Meet new writer friends and colleagues.
Writing can sometimes feel isolating, but you're not doing this alone. Between your book coaches and fellow classmates, you've got hundreds of companions on this journey.
You know what? Writing a book is pretty darn cool. You'll be able to show off your book to your family, kids, friends, colleagues, clients, complete strangers on the street…and rightfully so! You're amazing!
Yes, we send you snail mail!
While the majority of this course happens online, we also send snail-mail to you! You get a Tiny Book Kit shipped to your door filled with stickers, checklists, a workbook, and more. So fun.
Read rave reviews from people who completed The Tiny Book Course last year.
Check out these exciting wins!
"The course demystified the process for me. I not only completed my book and fulfilled a dream, but I am looking forward to future books." - Amy Busch
"I completed a friggin' manuscript!!" - Michelle B.
"I finished my book, but through this process realized that I can do anything I put my mind to, and I learned so much!" - V.N.
"Feeling empowered! New skills, patience, and got to meet the best people." - Stephanie McGuirt
"Achieved a goal that I had since grade 8!" - Agnes Wainman
"I fell more in love with publishing and further honed the process." - Kayla Floyd
​
"I realized I can do it! Also letting go of perfectionism allows words to flow for me." - Lisa Sarick
"I gained something nourishing to focus on during a difficult time. This tiny book (and course) has been my respite." - Melissa Pennel
"There is a place in the world for my stories, even if they are small." - Mayuri Amarnath
Enroll soon to secure a spot
The Tiny Book Course is offered just once a year.
We cap enrollment once we reach a certain number of students, so please enroll soon to guarantee a spot in the 2021 course.
Preparing for Success: September 1 - 10, 2021
- Attend the Preparing for Success kick-off meeting. September 7 at 10 am Hawaii / 1 pm Pacific / 4 pm Eastern.
- Complete your Getting Ready checklist.
- Set up your distraction-free workspace.
- Log into the beautiful Tiny Book Course Classroom and watch the first couple of tutorial videos.
- Choose a topic for your book.
- Create your book outline.
Write, Write, Write: September 11 - 30, 2021
​
- Write the manuscript for your tiny book! It's go time!
- Watch quick videos to get writing tips and get the words flowing.
- Attend the first Check-In meeting with your book coaches. September 21 at 10 am Hawaii / 1 pm Pacific / 4 pm Eastern.
- Bop into The Tiny Book Course Forum (if you want, completely optional) to share your wins and meet fellow writers.
- Email anytime if you feel stuck, want to brainstorm, or just need a little more support.
Editing, Design, and Self-Publishing: October 1 - 14, 2021
​
- Use our guidelines to edit and polish your book.
- Use our templates (variety of sizes) to create the interior for your book.
- Watch our tutorial to create a beautiful cover design for your book.
- Attend the second Check-In meeting with your book coaches. October 5 at at 10 am Hawaii / 1 pm Pacific / 4 pm Eastern.
- Upload your final file for self-publishing and printing. OMG, it's really happening!
- Wait eagerly for your book to arrive at your doorstep. Eeeeee!
Celebration Call: October 15, 2021
​
- Attend the Celebration Call! October 15 at at 10 am Hawaii / 1 pm Pacific / 4 pm Eastern.
Show off your completed book. Share one thing you learned from the journey. Cheer for your classmates. Try not to melt into a puddle of tears.
Writing a book isn't just about the book.
It's bigger than that.
For some, it's about using your voice, silencing your inner critic, accomplishing a lifelong goal, or creating something that will exist for your loved ones even after you're gone.
Hear from a few folks who did the course—and what this experience meant to them.
Everything you get & time commitment
The Tiny Book Course runs 45 days.
Time commitment is approximately 5 hours per week.
This course includes:
Welcome Kit, delivered to you via snail mail, including your official course workbook, journal, pens, stickers, and a few surprises.
Online education, including short videos, short emails, and Zoom meetings.
All Zoom meetings are recorded in case you want to watch and catch up later.
Tutorial videos, worksheets, and checklists to keep you organized and focused.
The Tiny Book Course Forum where you can meet fellow writers and celebrate your wins.
Rewards and surprises you earn for moving forward with your book project!
45 days of outstanding customer support. Email anytime during the course to ask a question, get advice, or request a pep talk. Get a personal reply within 1-3 business days.
Guidance from bestselling authors and publishing industry veterans who've written dozens of books and who've coached thousands of new authors through the journey.
The Tiny Book Course
​
- Course dates: September 1 - October 15, 2021
- Very last day to enroll: August 15, 2021
- Welcome Kit delivered to you via snail mail + online education.
- This course includes 45 days of outstanding customer support. Email anytime if you feel stuck, have a question, or need a pep talk. Get a personal response from an actual human being who cares about you.
We call it "Tiny Book magic"
Writing a book creates a magical ripple effect. Once your book is done, out in the world, it can unlock all kinds of surprising and unexpected doors.
It can lead to new clients, media opportunities, speaking gigs, fan mail from a complete stranger, or even a closer relationship with your kids.
Who knows what kinds of Tiny Book magic will happen in your life?
Join The Tiny Book Course, get your book done, and let the magic begin!
Alexandra Franzen is a writer, consultant,and entrepreneur based in Hawaii.
Her sixth book is The Checklist Book: Set Realistic Goals, Celebrate Tiny Wins, Reduce Stress and Overwhelm, and Feel Calmer Every Day.
​
She writes about a wide range of topics: life, love, death, grief, unplugging from technology, creativity, focus, productivity, simplicity, time–and how we spend it.
Lindsey is a writer, literary agent, and the Founder of One Idea Press. She is obsessed with publishing and to date, she has helped over 1000 people write and self-publish their books.
​
She's written eight books of her own including her award-winning book, Eat Your Feelings.
​
Lindsey also dabbles in stand-up comedy and resides in Pittsburgh, PA with her punk rock husband and their adorable pup, Winnie Cooper.
Woz is our community manager and customer support angel. As a writer, photographer, and creative spirit herself, she completely "gets" the excitement (and challenges) that come along with completing a creative project. You'll see her in the Forum providing incredible care and support to our authors.
​Our designer extraordinaire! You will love Lucy's tutorial videos on how to create the interior and cover design for your book. She also pops into The Tiny Book Course Forum to answer questions if you're feeling confused about anything.
Frequently asked questions
I don't live in the United States. Can I do this course?
---
Yes! We frequently have people participating from Canada, France, Singapore—all over the world! As long as you're comfortable reading materials and watching videos that are in English, you can absolutely take this course.
---
I can't attend some of the meetings. Will they be recorded so I can catch up later?
---
Yes! All meetings are recorded.
---
I am worried I will fall behind and won't be able to keep up with the course. What if I can't complete everything in 45 days?
---
This course is designed to have a calm and realistic pace. It is not a frenzied sprint! However, if you need more time, that's okay.
At the end of the course, you receive a download link. You can download all the course materials (workbooks, checklists, tutorial videos, book templates, etc.) all in one place. You get to keep these materials forever.
So, you can keep working independently even after the 45-day course has ended. There is no rush. Take all the time you need.
---
I did this course last year, and I loved it! I am considering doing it again. Will the 2021 course be different than 2020 or exactly the same?
---
It will be similar, but slightly different.
We've made a few tweaks to make the program even better than before—including:
- Revised workbook and even more fun swag in your Welcome Kit.
- Additional team members to serve you, which means an even faster response time whenever you email to ask a question.
Plus, it never hurts to revisit concepts you've already learned! A good refresher for your brain.
---
I have never written a book before. Honestly, I haven't really written much of anything since 10th grade in high school. Will this course be way too advanced for me?
---
Nope. Most of the people who do The Tiny Book Course are first-time authors who have never written a book before. You'll be in good company.
---
I don't want to write a book. But my mom / dad / sister / brother / spouse / child / etc. does. Can I purchase The Tiny Book Course as a gift for them?
---
Yes, you can! We've had folks do that in the past, and it's lovely.
Just go ahead and enroll as you normally would. Then email us (support@tinybookcourse.com) to let us know the name, email, and snail-mail address for your lucky gift recipient.
---
I am not very tech savvy, and I have no design experience. Will I succeed in this course, or will this be way over my head?
---
To have a successful experience in The Tiny Book Course, you will need:
- Good Wifi / Internet connection.
So you can attending meetings, watch tutorial videos, and take advantage of everything in the Classroom.
- Basic / Beginner tech skills.
Do you know how to use Word or Pages? Know how to type into a document and save it to your computer? Can you copy-and-paste text from one doc to another? Can you upload a file? Can you insert a photo into a document, or you've got someone at home who can sit by your side and help you do that? Great. You've got the skills needed for this course!
- And a willingness to ask for help when you need it.
This might mean asking your spouse to leave you in peace while you write, asking your kids to help draw illustrations for your book, asking your teenager to help you insert a link or upload a file, or asking The Tiny Book Course team for assistance.
Our most successful authors are the ones who ask for help instead of giving up at the first hint of difficulty.
---
This might be a silly question, but is this course only for women? It seems like most of the people who did the course last year were female. Can men do it, too?
---
Not silly at all!
We welcome women, men, and non-binary folks in this course.
Most of our course participants tend to be female, but we welcome everyone. All genders, all faiths, all nationalities.
All humans: welcome.
---
I thought I saw something about Book Production Services? Is that a thing? What's the deal with that?
---
You are correct! It is, indeed, a thing!
In addition to The Tiny Book Course (which is offered just once a year), we also offer Book Production Services (available year-round.)
When you hire our team for Book Production Services, this means you write the book manuscript, give us your Word document, and we handle the rest!
We do proofreading, copyediting, interior layout, cover design for you, and we can set up your book for sales on Amazon and other retailers if you want. Learn more here.
---
---